Dental Treatments
Quick and easy ways to Smile with Confidence
Our dentists have advanced training so they can carry out the best treatments to help keep your teeth and gums healthy.
High-quality dental treatments 
A taste of what we offer:
Dental Hygiene
Orthodontics
Bite Reconstruction
Teeth Whitening
Enamel Abrasion
Dental Bridges
Crowns
Dentures
Fillings
Fissure Sealants
Gum Lift
Root Canal Treatment
Snoring Appliances
Botox™
Case Study:    Lyn | Botox
Lyn had spent years covering her smile. She didn't like her gummy smile. When Lyn smiled, the overactive muscles that lifted her top lip, caused a lot of gum to show and the lip to curl.
We gave Lyn Botox treatment at the side of the nostrils. This relaxed the muscles to give a more pleasing drape over the gum. Lyn has had this treatment twice. The muscles are staying less active which has improved her smile. Further Botox treatments may be required in the future but on a less frequent basis.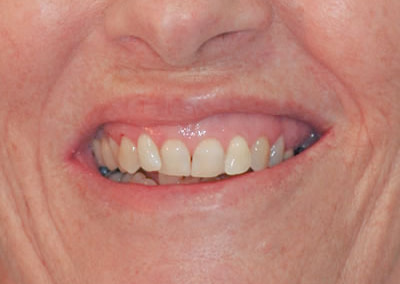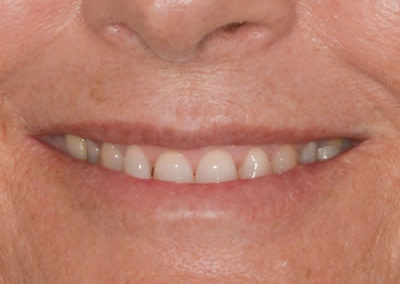 Bite Reconstruction
When you have many broken or missing back teeth that are not replaced, the remaining teeth start to wear down. Over many years this can lead to worn, chipped and shortened teeth.
This often requires your teeth to be restored. This can be done with one, or a combination of crowns, veneers, dental implants and dental bridgework.
At Jacaranda Dental we have the expertise and experience to do the various dental treatments needed to create your bite reconstruction.
Once finished, not only will you have healthy teeth that last for years to come, but you'll be able to chew your favourite food with ease and smile until your hearts content. For some people, the replacing of teeth can help lift your face.
Teeth Whitening
Teeth whitening is a very common procedure and our most popular cosmetic dental treatment for good reason. It's the lowest cost, most straight forward and achieves fantastic results.
We know that teeth whitening can make you feel more confident and improve your smile. Some patients say, it's like having a smile makeover.
You're in control of your teeth whitening as we provide a home whitening kit. It's easy to use, comfortable to apply and works wonders in just 2 weeks.
Sometimes a black front tooth can be unsightly due to a history of root canal treatment or old fillings. In these cases, we offer a specialist whitening treatment to improve the appearance of these teeth.
Enamel Abrasion
Sometimes teeth aren't as white as you'd like. If you have brown and white markings on your teeth, don't worry. These stains are usually only on the surface so they can be removed by the dentist.
Dental Bridges
A dental bridge can be used to replace one or more missing teeth. The dental bridge is basically a false tooth. It's beautifully created from porcelain that fills the gap. It's supported by your teeth or implants next to the bridge.
A dental bridge creates the illusion that the missing tooth comes out of the gum just like a natural tooth.
Bridges are a cost-effective way to close gaps. They look and feel like natural teeth, they're constructed quickly and they're permanent.
At Jacaranda Dental, our skills in cosmetic dentistry, gum manipulation and our in-house implant dentist can make sure no-one will ever know that you had a missing tooth.
Dental bridges are one of many ways to fix gaps in your smile. Bridges can be supported by implants or  crowns placed over the teeth and joining them all together.
Crowns
Crowns are a long-lasting solution for damaged or cracked teeth. They can improve the function and the look of your teeth and smile.
Sometimes a filling cannot adequately restore a heavily broken tooth. Crowns are usually more durable than a filling. It has a better fit and feel and is generally stronger in the bite.
A crown is a customised tooth made by local dental technicians in an Australian lab. They're a durable, lifelike shell that's placed over the remaining tooth to protect it. They're made from gold or ceramic or a combination of the two.
We have the latest technology so we can do a 3D digital scan to create your crown.
No more messy, unpleasant impressions. Just an excellent restoration to give you a winning smile.
Dentures
People loose teeth for a variety of reasons. Once teeth are lost there is shrinkage of the bone that supports the teeth.
Replacing missing teeth is important to maintain easy chewing.
It also helps to maintain a normal appearance of the mouth and face.
Dentures are a removable tooth replacement option that work very well for many patients. They are either plastic or metal based.
Fillers
Dental fillings are a very common procedure.
Sometimes teeth get decayed, damaged or cracked.  Biting and chewing can cause the back teeth to crack.
Tiny grooves (called fissures) can cause bacteria to get into the tooth. The bacteria can create acids that literally eat away at the tooth and cause cavities which can be painful.
Fillings block cracks, gaps and holes to repair and stop tooth damage.
We never use amalgam (the grey/silver product that's sometimes used to fill gaps). There are plenty of alternative tooth coloured materials that achieve the same results.
Resin fillings work well in small to medium sized cavities and can be virtually invisible. Ceramic Inlays and <crowns> are a better option for teeth that require large rebuilds.
Fissure Sealants
Fissure Sealants are the best way to prevent tooth decay (Fluoride in the water supply was a huge bonus too).
The grooves on the biting surfaces of most teeth are too deep and too narrow to be completely cleaned with a toothbrush. Fissure sealant is a dental resin put into these gaps to stop food bits building up and trapping bacteria. This causes decay.
Fissure sealants don't need any drilling, they're painless and less expensive than fillings. We usually recommend them for children and teens, especially if they're at risk of tooth decay.
Check out our other ways to prevent dental problems.
Snoring Appliances
Snoring appliances help to manage sleep apnoea and snoring. They include an upper and lower mouthguard that fit onto the teeth. They push the lower jaw and tongue forward to help keep the airway open.
Sleep apnoea is a medical condition. We work with sleep specialists to give you a dental alternative to a CPAP machine. Getting a regular good night's sleep improves your health and quality of life.
We suggest you use the SomnoDent MASTM from 'Somnomed'. It's the most widely used Australian designed appliance.
BotoxTM
BotoxTM is a muscle relaxant. It helps to calm those overactive jaw muscles which contribute to headaches, tooth damage and facial appearance issues.
Dr Wood is trained to provide Botox treatments. It's very effective in reducing gummy smiles and clenching jaw muscles. It can also be an effective cosmetic treatment for some wrinkles around the mouth.
See our Case Study:    Lyn | Botox
Dental Treatments
From check-ups to your dental problems fixed
Cosmetic Dentistry
Using the latest technology to give you a smile makeover
Teeth Whitening
Achieves fantastic results to enhance your natural tooth colour
Dental Hygiene
The latest cleaning technique that's pain free and works wonders.
Dental Implants
Replace your missing teeth
Orthodontics
Correct your crooked smile or overbite with discreet or invisible braces
Bridges Crown Veneers
Repair or replace your cracked or missing teeth.
New Patients
Your first appointment is an opportunity to meet . You'll be well looked after; even if you're feeling nervous
Better Dental Health Care is Our Mission
5 Days a week service / Saturday by Appointment!