Dental Implants
How to get your confidence back so you can smile bright, laugh out loud and eat without worry
Missing teeth?
Get your confidence back with dental Implants. They're a real winner.
You feel great when you're having a good laugh or eating a delicious meal with friends. It can be hard if you have missing teeth so why not get them replaced today.
If you have missing teeth or loose dentures, dental implants could be your answer.
Dental implants give you a long-lasting solution so you can get on with enjoying life without having to think about your teeth.
Here's the real beauty of dental implants
Implants are the modern way to replace missing teeth. They look natural and stand alone. No disturbing other teeth. An implant acts and functions like the root of a real tooth. Anyone looking will think it's a real tooth.
What is a Dental Implant
An implant is an artificial root made of titanium.
It's fitted into your jaw bone where the tooth root would normally be.
The tooth implant is free standing so the adjacent teeth are left alone.
One missing tooth or several missing teeth can be replaced.
Implants can anchor a loose denture.
They're super long-lasting.
And the best part…
It's near painless. We numb the area so you barely feel a thing. We make the experience as relaxing and comfortable as possible. Once in place, an implant gives no toothache sensations. At Jacaranda Dental, we have patients that have had dental implants for years.
Implants can last a lifetime if looked after well. Many patients often say that having the implant put in was less painful than having a tooth removed.
We are so confident in our dental implants that we'll offer you a
5-year re-treatment guarantee.
Ask us about this when you have your first consultation. You'll need to have 6-12 monthly check-ups at Jacaranda Dental to make sure you're looking after your teeth. A small percentage of patients re-treatment may not be possible.
Want to know more? Our dentists will be more than happy to explain.
Jonathon | Dental Implants
Jonathon lost his front tooth as a teenager. At the time, his options were limited so he had a denture to replace it. Jonathon wanted a fixed tooth replacement. He wanted to eat without getting food caught around his denture.
We replaced the missing tooth by grafting Jonathon's bone to anchor his teeth and used a single implant and crown. It matched the shape and colour of Jonathon's natural teeth.
Jonathon now eats any food he likes without the worry of the denture coming out. He loves that he can look after it just like a real tooth and never has to take it out again. And, no one can tell the difference.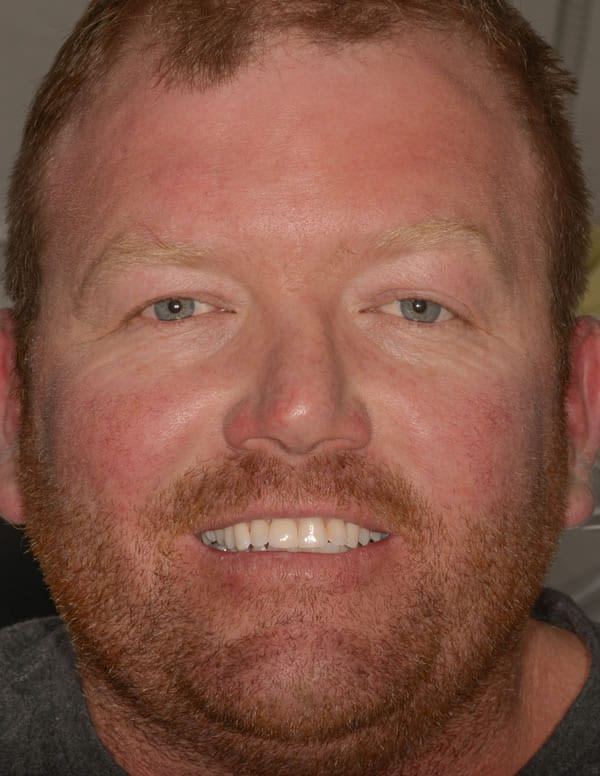 The advantages of implants speak for themselves:
Implants have a great long term success rate
They have a natural appearance
They are durable and strong
They are more affordable than you may think
Most people who want a dental implant to replace a missing tooth or teeth can have them. Very few people are not suitable.
They help stop jaw bone shrinkage.
When replacing a few missing teeth, implants can support and fill out face muscles.
This means you'll have:
Increased self confidence
Improved appearance
Increased smiles and laughter (without putting your hand over your mouth)
Improved speech
Improved comfort
Easier eating (choose whatever you like off the menu. What a bonus.)
Want to know more or book an appointment?
Our dentists will be more than happy to tell you anything else you need to know about dental implants. Call and book in an appointment today.
Dental implants in-house
We fit dental implants in-house. That's right. We offer a comprehensive dental implant service at our practice.
In more complex cases we work with other specialists to give you the best service from start to finish.
Over the last few years, more and more people are having implant treatment. They see the benefits. It's performed as a routine procedure and there's minimal discomfort during and after the procedure.
Here's more information on dental implants                   
How long will it take to fit implants? Do you use the latest technology?
Planning
At Jacaranda dental we have a state-of-the-art digital scanner and a digital CT X-ray machine. This lets us scan your mouth with a 3D camera so we can avoid any complications. It replaces the need to take impressions of your teeth in many cases.
Having this technology means we gather all the information we need for your treatment. It also means that you don't need to go to a Radiology Practice and wait for the results.
We plan your treatment well before it starts. You'll like our new and advanced software (Nobel Biocare) where you can see your implant treatment virtually. It's designed with 3-D computer modelling.
Treatment
Once all the tests and diagnostics have been carried out we'll work out a treatment plan just for you. Some patients want to go ahead straight away and get it done. Others want to break it into parts. It's your choice.
On the day of your surgery we'll make you as comfortable as possible. You may decide to take some medication to help with sedation. That's completely up to you.
We'll use an anaesthetic to numb your mouth so you won't feel a thing. Then just lie back, relax and let the dentist work the magic.
After care
In the weeks and months after your treatment, we'll be in touch to make sure you have no issues. It's highly unlikely that you'll have any problems with healing but feel free to ask us anything.
We're so confident that you're going to love your replacement tooth (teeth) that we give you a 5 year re-treatment guarantee of our work so if there are any problems, you can give us a shout and pop back in to see us.
(Ask us about this when you have your first consultation. You'll need to have 6-12 monthly check-ups at Jacaranda Dental to make sure you're looking after your teeth. In a small percentage of patients retreatment may not be possible.)
Best part – all of this new digital technology makes it much easier, quicker and safer for you.
Can you fill more than one missing tooth?
Absolutely. Implants are set individually into your jaw bone. Unlike bridges they don't rely on other teeth to stay in place which means you can have as many as you need (depending on budget of course). You don't need one implant for each missing tooth in bigger cases, as implants are strong enough to support a few teeth when they are joined together.
Will I have gaps while I wait for my implants?
If you want to replace missing teeth in a single visit to the dentist, in certain circumstances we can provide an "immediate implant".  You'll have new teeth on the same day the implants are put in.
If you can't have an immediate implant we prepare for your treatment so you'll never have any glaring gaps while you wait.
How long will the implants last?
Implants are hard-wearing and long lasting but require some maintenance. Gum disease can affect implants just like normal teeth. They will, however, last for years (even forever) if you take good care of them.
At Jacaranda Dental, we have patients who've had dental implants for years. Implants can last a life time if well looked after.
Who will fit them for me?
Dr Baker (Glen) has been carrying out dental implant procedures for over 15 years. He's extensively trained in this work. In 2010, Glen was awarded a postgraduate Master certificate with the Global Institute for Dental Education (gIDE) through University of California (UCLA), one of the most comprehensive training programs in Australia. Not only that – Glen ranked 2nd out of 70 students from Australasia. Now we think that's impressive. It's the best reassurance he can do this!
Glen doesn't rest on his laurels. As soon as there's new information or technology on dental implants, Glen takes the time to learn about it.
There're only a few dentists in Sydney who have studied dental implants to this level. He certainly knows a thing or two about implants which means he can give you the best treatment possible.
"The training is taught by the world's best implant clinicians and educators. It's for dentists who want to give the next level of treatment and care to their patients. I learnt a lot on the course. I love being able to provide the best dental implant work to my patients."                                                                     Dr Glen Baker
How much does it cost?
It's difficult to list a specific price as it all depends on number of implants, the quality and quantity of bone, and the condition of your other teeth. They are not the cheapest of treatments but they are the most natural, long-lasting and healthiest way of replacing a tooth or teeth.
There's plenty involved in getting the best implants. There's the titanium implant; digital technology and experience to get the implant just right. The crown, which is made from durable materials like ceramic is completely customised for you. It's vital that it looks real and blends perfectly with your other teeth.
We understand that dental implants can be pricey which is why we offer a range of payment options, including interest free payment plans, as well as other finance options.
If you're still worried about the costs, we're happy to explain more. That's why we recommend you make an appointment for a thorough implant consultation. Alternatively, if you think it's going to be too costly, why not take a look at some of our other fabulous dental treatments
Is it painful to have implants fitted?
We are extremely careful and gentle when placing the implants. We are very experienced at the procedure and feel confident that you won't feel any pain. Anaesthesia and sedation are used to stop discomfort.
Many patients often say that having the implant put in was much easier than having a tooth removed. But don't take our word for it. We can put you in touch with one of our other patients who has had the treatment already. They'll be happy to tell you their story.
Read some of our case studies
Are dental implants safe
Yes, it's safe, but implant dentistry is complicated surgery. That's why you need a dentist like Dr Glen Baker who is both highly qualified and talented in this procedure. It's important to keep you safe and to make sure you get a beautiful result.
You can reduce any risks by making sure you research dentists who have the skills to do implants. Don't forget, the cheapest implants are unlikely to be the best implants.
Does it matter where the missing teeth are? Front or back?
It doesn't matter where the missing teeth are. If they're not replaced the surrounding teeth can shift and over time. Plaque and tartar can gather in the gaps and cause problems.
Missing teeth can affect speech, eating and confidence. Even if the missing ones are at the back, it can affect your biting. It'll probably mean that you'll rely on eating on the other side which can put a lot of pressure on that side.
I don't live in Caringbah – can you still do dental implants for me?
Absolutely! Jacaranda Dental in Caringbah is one of the few practices in the Sutherland Shire that offers implant dentistry. We provide implants for patients from Cronulla, Miranda, Sylvania or Sutherland. You don't need to travel long distances for great dentistry.
We also offer comprehensive implant treatments to country patients in Wagga Wagga. We've travelled there on a regular basis for the last 7 years, so if you're based in or near Wagga give us a call.
Want to know more or book an appointment?
Dr Baker knows his dental implants. He's more than happy to tell you everything you need to know about dental implants.
Call and book in an appointment today.
  Check out other Services
Dental Treatmensts
From check-ups to your dental problems fixed
Cosmetic Dentistry
Using the latest technology to give you a smile makeover
Teeth Whitening
Achieves fantastic results to enhance your natural tooth colour
Dental Hygiene
The latest cleaning technique that's pain free and works wonders.
Filings
Repairing your tooth damage
Orthodontics
Correct your crooked smile or overbite with discreet or invisible braces
Bridges Crown
Repair or replace your cracked or missing teeth.
New Patients
You'll be well looked after; even if you're feeling nervous
Better Dental Health Care is Our Mission
5 Days a week service / Saturday by Appointment!