Angela | Dental Hygiene | Airflow
Angela came in for her regular dental examination and hygiene visit. She regularly cleaned her teeth and thought she was doing a good job.
We gave Angela the new Airflow cleaning treatment instead of a traditional scale and polish. This started with a special dye on the teeth which showed up the plaque. Angela could immediately see the plaque she was missing when brushing her teeth.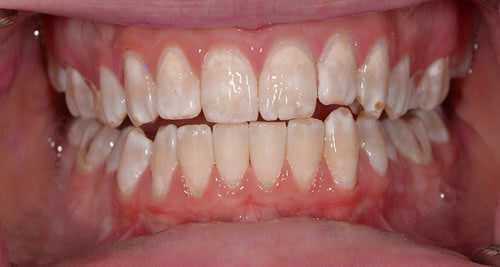 The dye shows as different colours depending on the age of the plaque. The purple dye shows new plaque and easily removed. Dark blue dye shows plaque that's been there longer and is capable of causing gum disease. A light blue plaque is harmful as it is producing acids and causes decay.
Angela could easily see where the dark blue and light blue patches were. We cleaned the plaque and dye off with the Airflow powder and water pressure. We gave Angela some brushing and flossing tips to remove as much plaque as possible when she cleans her teeth.
Angela liked Airflow as it was gentle and thorough. She was very happy with the result.
Better Dental Health Care is Our Mission
5 Days a week service / Saturday by Appointment!